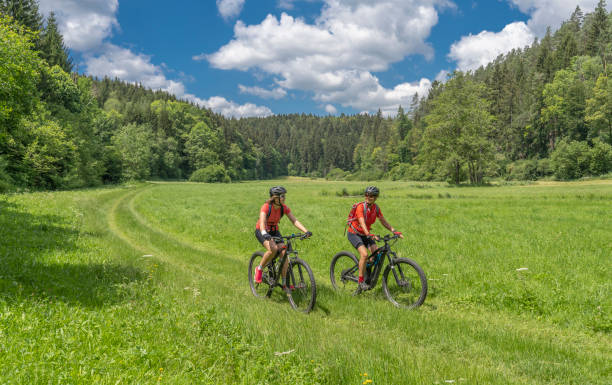 In the advent of Electric Bike in Australia has made it possible to democratize cycling holidays tours. With family, friends or alone, more and more Australian Electric Bike cyclist are deciding to discover Australia and its tourist spot by ebike.
 The electric assistance available on ebikes allows cyclists to cover distances of more than 80 kilometers per day with less fatigue and without the need for intensive training beforehand.
 What is cycle tourism? Why is this practice more and more appreciated by cyclists but also new to ebikes? You will find all the answers to your questions in this Ausstech Ebike Article.
What is electric cycle Toursim?
The craze surrounding the bicycle and more recently, the electric bicycle continues to increase. Whether for an ecological or sporting issue, more and more people are arming themselves with an eBike for their daily commute or for their weekend ride. Among the many type of  cyclists, we also find those who combine holidays and cycling.
 The field that has been most influenced by the electric bicycle is that of tourism. Thanks to the development of roads designed for cyclists, it didn't take long for them to fill up with bikers of all kind. It is a new form of vacation and tourism that attracts more and more cyclists, whether they are novices or experienced. The electric assistance available on the VAE allows to give a hand to the cyclist throughout his journey.
 Electric cycle tourism consists of spending your holidays on an electric bicycle.
 Electric cycle tourism can take different forms: 
The practice of cycle tourism varies depending on the paths cyclists take. The type of road and the distance to be covered are elements to take into account when choosing an electric bike for this practice.
The different forms of cycle tourism
The walk in town
Renting ebikes to explore a city is one of the simplest forms of cycle tourism. Many cities offer daily rentals or for a few hours. This rental system allows, on the one hand, to discover a city and, on the other hand, to become familiar with the use of an electric bicycle.
Some cities, such as Sydney or Brisbane , are starting to set up systems for making self-service electric bicycles available to residents and tourists. These electric bikes are suitable for short distances and for city trips.
This system allows cyclists to test pedelecs before purchasing them. In contrast, electric bicycles available for self-service or rental are generally heavier and less manoeuvrable than a store bought eBike.
The choice of electric bike
 The ideal for city cycle touring is the choice of an urban electric bicycle. These bikes have the particularity of offering an upright sitting position to the cyclist. This position allows you to have a better vision of traffic, traffic ... A sitting upright position will allow you to anticipate your movements more quickly. You will also be able to gain speed while maintaining a comfortable position.
Ebike Tour Circuits 
One of the other popular forms of electric cycle touring is vacation on Bike Tour routes.
 The principle of this type of vacation is the route of a circuit allowing travelers to move between regions by staying a few days in each city to be able to explore the surroundings.
You have the option of hiring a tour operator to organize a route. There are several packages with the option of a guide. The guide allows you to follow a path without being afraid of getting lost. In addition, it provides you with popular tourist information when you are discovering a new region.
You also have the option of a semi-organized trip: the agency takes care of booking accommodation, bicycles if you do not already have a VAE, the organization of the days and all the necessary things such as cards , GPS… Ultimately, this allows travelers to cycle without having to worry about finding a hotel and simply enjoying exploring the regions.
You should know that star circuits have a fairly high level of difficulty. If you are a novice or if you do not practice regularly, be sure to start with fairly short excursions, between 30 and 40 kilometers.
The choice of electric bike 
 EBike circuits can be difficult with hilly reliefs but also paths with gravel. You must therefore be careful when choosing your Ebike. 
Hilly reliefs:
 In the event that you cross hilly terrain, you must bring an eBike which will make your job easier on hills. Thus, you must look at the development possibilities offered by your VAE (distance traveled for one pedal revolution). The lower the minimum value, the higher you will be able to climb. On the other hand, the higher the maximum value, the faster you can go on flat and downhill.
You should also take into account the torque of the electric motor: the larger it is, the easier your ability to climb sides will be. Ausstech Ebike motor provides ideal torque for the sides.
For more information on the engines are VAE , please read our article on the subject.
Road and gravel:
The paths you are going to travel during your vacation can be tarred, muddy, with gravel ... You must therefore inquire beforehand to have the most suitable bike for your route.
So, you must be careful when choosing your wheels. Thin wheels on an asphalt course optimize your speed. On the other hand, large tires allow you to have more comfort on multi-use roads. Read More: Pros & Cons Traveling With An Electric Bicycle
Electric bike trips  
The most difficult option of cycle tourism is still the real trip by electric bike. This type of cycle tourism represents thousands of kilometers crossed by bicycle. These holidays require a lot of organization. On the other hand, despite its difficulty, it remains one of the most beautiful forms of cycle tourism.
  Things You Need To Prepare On An Ebike Holiday Tour
The trip must be perfectly planned to avoid any problems. There are several things to consider:
The type of roads

The size of your luggage

The autonomy of your bike

Charging stations

Housing (Place to stay or to camp)

 
You should also take into account your ability to tackle many hours of cycling.
Cycle tourism is within everyone's reach, there are routes planned for each level. The growing popularity of this type of vacation allows cyclists to have access to infrastructure intended for this type of trip. 
If you are thinking about cycle touring for your next vacation, don't hesitate to  contact us for advice on the best eBikes to use for your vacation.
The choice of electric bike
The most important thing when traveling by electric bike is to pay attention to the range of your eBike. The range of the bike varies depending on the batteries and their use. There are 9 Ways to Charge Your Ebike's Battery While You Are On The Go. For a long trip with several hundred kilometers traveled per day, equip yourself with the most efficient model possible.
The LG Battery system offers ideal autonomy for this type of cycle touring.
 You should also pay attention to your position on the bike. Unlike city touring and the upright sitting position, for long journeys, prefer a more forward seat. Despite the lack of comfort at first, this position will allow you to balance your weight on the bike and allow you to pedal for several hours without pain. Read more on Charging Your EBike's Battery Best Practices For Long Life
If you want to visit Australia , do not hesitate to consult this article on cycling tourism in Australia. Ausstech EBikes remains at your disposal to help you make the best choice of bike for your cycle touring! Do not hesitate to contact us by visiting our Website.
RELATED TOPICS 
9 Ways to Charge Your Ebike's Battery While You Are On The Go
20 Types Of Riders That Can Benefit Using Ebike
Why Getting An Electric Bike To Your RVs Is An Excellent Decision
Electric Bike's Benefit for Australian Commuters
Reasons Why Ebike For The Treatment Of Osteoarthritis Is Getting More Popular
Why Electric Bike is the Best Gear To Loose WeightThings You Need To Prepare On An Ebike Holiday Tour
What are the Types of electric bicycles?
Pros & Cons Traveling With An Electric Bicycle
 What is a Foldable Electric Bicycle?
5 Reason Why You Need To Opt For Electric Bike Over Your Classic Bike.
EBike rental for guests Boost sales for Airbnb Host
Charging Your EBike's Battery Best Practices For Long Life
Best bike route and course in Australia
The Electric Bike Makes You Want To Go To Work Employers Should Know
Choosing The Best EBike For Your Pet
Electric mountain biking: discover mountain biking differently!
Electric Bike Tourism In Australia
Choosing Electric Bike For Australian Women
EBikepacking 2021 Best Outdoor Activity
Advantage Using Ebike Ride To Work
How Can Electric Bike Boost Hotel Tourism
Senior can now be physically fit for being mobile- Thanks to Ebike
How great is the training effect of Ebikes?
EBike is Beneficial to These Type of Riders
How Ebike can help Australian and Foreign Students to earn while you learn
Why should Australian Restaurants start delivering their own food with Ebike?
Earn $5k Monthly Delivering Foods With Ebikes
List Of 38 Things Of What Australian Should Look For An Entry Level Ebikes For Beginners
Electric Bike - The Smartest Way To Commute Around Australian Cities
How To Choose The Best Ebike For My Business Product Delivery Team.
25 Things You Need To Know Before You Buy An Electric Scooter
Beach Rider 20 F007 brings you that special feeling where less E means more riding. Whether you want to cover longer distances, reach epic locations, simply be more efficient on the road, or experience great adventures even more often, the RISE exceeds your expectations and sets a new standard in biking. Folding e-bikes are particularly popular among commuters, because their compact design makes them particularly useful. The constant new technologies and developments are causing more and more people to switch to a folding e-bike . With the latest battery packs, it is now possible to cover longer distances on a folding e-bike without any problems .
Regular price$2,300.00 $1,600.00 Sale
Super Z 26 M005 immediately stands out visually from the test field. This is due to the technical features of the High-impact Alloy Aluminum Foldable Frame , which are clearly emphasized with black and gray color accents. The robust underrun protection that surrounds the Ausstech Performance rear  motor catches the eye just as quickly. The highlight: The motor was installed offset to the rear to better fit the frame.
The frame of the Monster 26 M007 is as well thought out as it is high quality and skillfully integrates the system around the Ausstech rear motor. Downhill it is unbeaten in this group test On both flowing and really technical downhill routes, the Monster 26 M007 overtakes the competition like on rails and offers a lot of comfort even on tours. No other bike rewards an active riding style with such direct handling! And otherwise? Super wide range of applications, excellent handling, high-quality High-impact Alloy Aluminium Foldable Frame deserved test victory!  
  Thunder 26 Electric bike and its compact geometry, it is very maneuverable, easy to control and fun on flowing downhill stretches. Although the rear triangle literally sticks to the ground, it provides enough feedback from the ground and offers enough support for jumping off and pushing. On rougher trails, the imbalance in terms of grip between the rear and front wheel becomes apparent. It's a shame, because the bike is very balanced in terms of load distribution and is very easy to control in open corners on a non-slip surface 
  The Fremont - M042 the electric mountain Bike is designed to be a true all-rounder electric mountain bike: it's designed for mountain biking trails, but it's also great for commuters, with additional features such as rack and guard mounts against mud. It might be the perfect choice for you if you want to ride the trails on weekends but also need a bike to get to work on weekdays. However, it is not designed for downhill or heavy trails. The Fremont - M042 is made from High-impact Alloy Aluminum Frame , which makes it a fairly light bike. There are seven sizes to choose from, so you should be able to find one that works for you.
Regular price$2,500.00 $1,600.00 Sale
Thunder 29 E-Bike M003 chassis works very sensitively and sufficiently defined with the steel spring damper. It can handle rough chunks and heavy landings without a murmur and screams for more, even more speed. It prefers to generate this with the help of gravity in the fall line and takes away the horror of even super steep gullies and blocked stone fields. The Thunder 29 E-Bike M003 gives you so much security at high speed that you feel invincible!