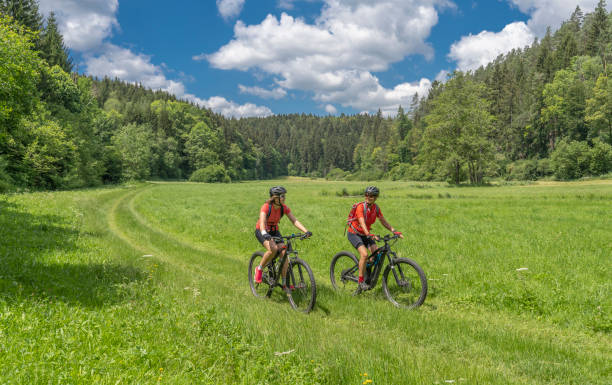 In the advent of Electric Bike has made it possible to democratize cycling holidays. With family, friends or alone, more and more cyclists are deciding to discover Australia and its tourist spot by bike.
 The electric assistance available on e-bikes allows cyclists to cover distances of more than 80 kilometers per day with less fatigue and without the need for intensive training beforehand.
 What is cycle tourism? Why is this practice more and more appreciated by cyclists but also new to ebikes? You will find all the answers to your questions in this Ausstech E-bike Article.
What is electric cycle Toursim?
The craze surrounding the bicycle and more recently the electric bicycle continues to increase. Whether for an ecological or sporting issue, more and more people are arming themselves with an eBike for their daily commute or for their weekend ride. Among these cyclists, we also find those who combine holidays and cycling.
 The field that has been most influenced by the electric bicycle is that of tourism. Thanks to the development of roads designed for cyclists, it didn't take long for them to fill up with bicycle travelers. It is a new form of vacation and tourism that attracts more and more cyclists, whether they are novices or experienced. The electric assistance available on the VAE allows to give a hand to the cyclist throughout his journey.
 Electric cycle tourism consists of spending your holidays on an electric bicycle.
 Electric cycle tourism can take different forms: 
City walk

Holidays on Bike route circuits

Electric bike trip
The practice of cycle tourism varies depending on the paths cyclists take. The type of road and the distance to be covered are elements to take into account when choosing an electric bike for this practice.
The different forms of cycle tourism
The walk in town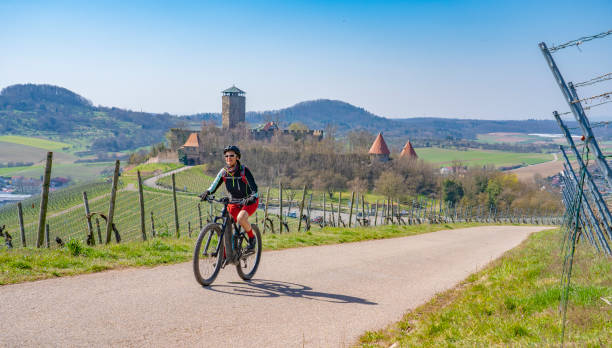 Renting e-bikes to explore a city is one of the simplest forms of cycle tourism. Many cities offer daily rentals or for a few hours. This rental system allows, on the one hand, to discover a city and, on the other hand, to become familiar with the use of an electric bicycle.
Some cities, such as Sydney or Brisbane , are starting to set up systems for making self-service electric bicycles available to residents and tourists. These electric bikes are suitable for short distances and for city trips.
This system allows cyclists to test pedelecs before purchasing them. In contrast, electric bicycles available for self-service or rental are generally heavier and less manoeuvrable than a store bought eBike.
The choice of electric bike
 The ideal for city cycle touring is the choice of an urban electric bicycle. These bikes have the particularity of offering an upright sitting position to the cyclist. This position allows you to have a better vision of traffic, traffic ... A sitting upright position will allow you to anticipate your movements more quickly. You will also be able to gain speed while maintaining a comfortable position.
Ebike Tour Circuits 
One of the other popular forms of electric cycle touring is vacation on Bike Tour routes.
 The principle of this type of vacation is the route of a circuit allowing travelers to move between regions by staying a few days in each city to be able to explore the surroundings.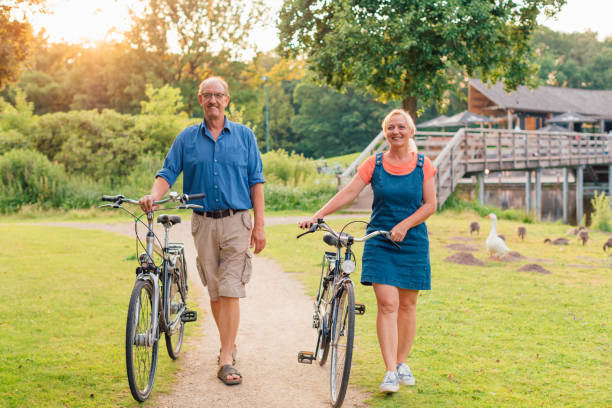 You have the option of hiring a tour operator to organize a route. There are several packages with the option of a guide. The guide allows you to follow a path without being afraid of getting lost. In addition, it provides you with popular tourist information when you are discovering a new region.
You also have the option of a semi-organized trip: the agency takes care of booking accommodation, bicycles if you do not already have a VAE, the organization of the days and all the necessary things such as cards , GPS… Ultimately, this allows travelers to cycle without having to worry about finding a hotel and simply enjoying exploring the regions.
You should know that star circuits have a fairly high level of difficulty. If you are a novice or if you do not practice regularly, be sure to start with fairly short excursions, between 30 and 40 kilometers.
The choice of electric bike 
EBike circuits can be difficult with hilly reliefs but also paths with gravel. You must therefore be careful when choosing your bike. 
Hilly reliefs:
 In the event that you cross hilly terrain, you must bring an eBike which will make your job easier on hills. Thus, you must look at the development possibilities offered by your VAE (distance traveled for one pedal revolution). The lower the minimum value, the higher you will be able to climb. On the other hand, the higher the maximum value, the faster you can go on flat and downhill.
You should also take into account the torque of the electric motor: the larger it is, the easier your ability to climb sides will be. Ausstech Ebike motor provides ideal torque for the sides.
For more information on the engines are VAE , please read our article on the subject.
Road and gravel:
The paths you are going to travel during your vacation can be tarred, muddy, with gravel ... You must therefore inquire beforehand to have the most suitable bike for your route.
So, you must be careful when choosing your wheels. Thin wheels on an asphalt course optimize your speed. On the other hand, large tires allow you to have more comfort on multi-use roads.
Electric bike trips  
The most difficult option of cycle tourism is still the real trip by electric bike. This type of cycle tourism represents thousands of kilometers crossed by bicycle. These holidays require a lot of organization. On the other hand, despite its difficulty, it remains one of the most beautiful forms of cycle tourism.
The trip must be perfectly planned to avoid any problems. There are several things to consider:
the type of road
the size of your luggage
the autonomy of your bike
charging stations
housing
You should also take into account your ability to tackle many hours of cycling.
Cycle tourism is within everyone's reach, there are routes planned for each level. The growing popularity of this type of vacation allows cyclists to have access to infrastructure intended for this type of trip. 
If you are thinking about cycle touring for your next vacation, don't hesitate to  contact us for advice on the best eBikes to use for your vacation.
The choice of electric bike
The most important thing when traveling by electric bike is to pay attention to the range of your eBike. The range of the bike varies depending on the batteries and their use. For a long trip with several hundred kilometers traveled per day, equip yourself with the most efficient model possible.
The LG Battery system offers ideal autonomy for this type of cycle touring.
 You should also pay attention to your position on the bike. Unlike city touring and the upright sitting position, for long journeys, prefer a more forward seat. Despite the lack of comfort at first, this position will allow you to balance your weight on the bike and allow you to pedal for several hours without pain.
If you want to visit Australia , do not hesitate to consult this article on cycling tourism in Australia. Ausstech E--Bikes remains at your disposal to help you make the best choice of bike for your cycle touring! Do not hesitate to contact us by visiting our Website.
RELATED TOPICS 
E-Bikepacking 2021 Best Outdoor Activity
How great is the training effect of E-bikes?
Senior can now be physically fit for being mobile- Thanks to E-Bike
Why should Australian Restaurants start delivering their own food with E-bike?
How Can Electric Bike Boost Hotel Tourism
Advantage Using E-bike Ride To Work
Earn $5k Monthly Delivering Foods With E-bikes
List Of 38 Things Of What Australian Should Look For An Entry Level E-bikes For Beginners
How To Choose The Best E-bike For My Business Product Delivery Team.
25 Things You Need To Know Before You Buy An Electric Scooter
How Can Electric Bike Boost Hotel Tourism
Senior can now be physically fit for being mobile- Thanks to E-Bike