Are you too weak, too lazy, or too old to exercise but you want to have a healthy lifestyle? Are you looking for a less painful, low-impact cardio exercise that won't strain your muscle and drain too much of your energy and still gives you the same benefit as regular cardio exercises?
Achieving a well-balanced exercise regiment is to cultivate a vigorous lifestyle. Cardio fitness activity, also known as heart exercise, is important to have a healthy heart reduce the possibility of heart disease.
Cardio exercise are many types of activities with a different spectrum of difficulties from low to high intensity that directly affect your heart rate. Practicing cardio activities regularly or on an occasional basis can enhance your respiratory health, lower stress, improve and decrease your resting heart rate, and can even lower the possibility of heart disease.
Electric bikes are low-impact cardio exercises?
 Electric bikes are excellent, low-impact cardio exercise. Thanks to its battery-powered, pedal-assist motor attached to it you can now have a lighter pedaling activity, less pain, less strained muscles, perfect activity for older people and people with injury or too weak to handle high impact cardio exercise. Using an electric bike as cardio exercise, A fast pedaling activity alternating with an easier and relaxed ride.
Not only Ebikes Improves your heart muscle, but this type of exercise also strengthens your leg, arm, and core muscles. Cardio activities are important to your heart to keep it strong and healthy.
Many people are asking about eBikes when it comes to their effectiveness on cardio exercise. For people who tried Ebikes for their cardio activities, the pedal-assist feature of electric bikes has raised some concerns about the intensity of physical effort it requires to ride an eBike and even raises skepticism. Can an Electric Bike be good enough for your cardio exercise regimen?
One effective way of cardio exercise on an ebike
Exercising on an electric bike becomes an effective cardiovascular exercise when the rider will be pedaling nonstop for 20 min. By then the heart rate increases and pumping blood at maximum pressure and oxygen uptake increases as well
Ebikes are easy to handle than regular bikes.
We couldn't agree more that regular bikes are intensive when it comes to achieving the benefit of a cardio exercise. E-Biking is no different in comparison, but it offers a lot of benefits. Not only a low-impact activity but also provides the same amount of benefit and that is to improve your cardio health. Electric bikes are known for being an available and favorable option for many bikers. Traditional cycling activity is compared to jogging and running whereas electric biking is to walking fast.
If you are looking for numbers, the average calories burnt on a regular bike is approx. 400-500 /hr. compared to an electric bicycle average of 300-400 /hr., not really much of a difference. If we were to measure how many calories both burn. If it's not a matter of how much but how fast. You can simply increase the intensity by riding for a lengthy period of time or adjusting your pedal assist level.
E-biking can also be a good alternative practice for most of us who do not prefer to go to a fitness gym, those want to work out at home, or those who are just beginners when it comes to getting into a fitness activity. Thanks to Ebikes: anyone can do it, and can start at any age.
You can adjust your ebike cardio workout for less intensity.
Cardio exercise's effectiveness depends on how much effort you give, how hard you push your body, and how long you're working out that day.
The best thing about Ebikes is that you can raise or lower the level of difficulties from the motor assistance, it varies on your strength and body capacity or how many calories you want to burn during that time. Raising the intensity of your workout, you can adjust the resistance from the assist feature by lowering the setting. That will allow you to push and work harder on the pedals. That will give your heart a more effective cardio activity.

Changing the level of the resistance and acceleration on your electric bike, from low & high speeds in the resistance from the assist feature. The effect will be the same compared to resistance training.


Perfect for older people who are suffering from joint pain or injury.
Working out with an Ebike is highly preferred by seniors and people with injury, joint pain or arthritis, due to its low impact activity. Thanks to its pedal-assist motor that makes it easier to handle by those who are no longer capable of riding a regular bike due to the difficulty of the resistance that causes more pain to their injury. Ebikes do not stress the joints of the body. We know that the knees are most often affected by osteoarthritis. Regular exercise using an Ebike will strengthen the legs muscles and relieve joint pain.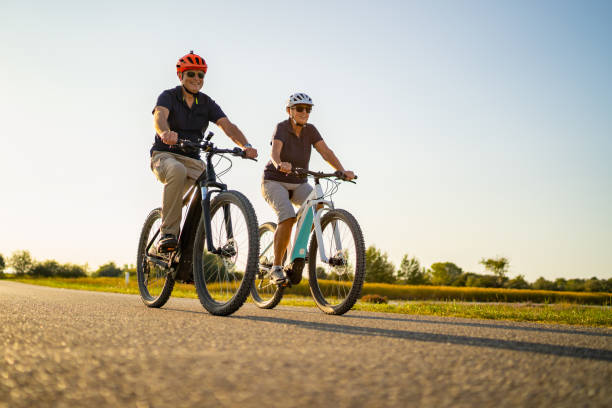 That being said, It is very clear that more bike owners will likely ride their electric bikes than their regular bikes. What this means for them is that there is more regular cardio activity in their lives if they were to choose to ride an electric bike. Riding regularly is key when it comes to maintaining the excellent health of our hearts.



RELATED TOPICS 
9 Ways to Charge Your Ebike's Battery While You Are On The Go
20 Types Of Riders That Can Benefit Using Ebike
Why Getting An Electric Bike To Your RVs Is An Excellent Decision
Electric Bike's Benefit for Australian Commuters
Reasons Why Ebike For The Treatment Of Osteoarthritis Is Getting More Popular
Why Electric Bike is the Best Gear To Loose Weight
Things You Need To Prepare On An Ebike Holiday Tour
What are the Types of electric bicycles?
Pros & Cons Traveling With An Electric Bicycle
 What is a Foldable Electric Bicycle?
5 Reason Why You Need To Opt For Electric Bike Over Your Classic Bike.
EBike rental for guests Boost sales for Airbnb Host
Charging Your EBike's Battery Best Practices For Long Life
Best bike route and course in Australia
The Electric Bike Makes You Want To Go To Work Employers Should Know
Choosing The Best EBike For Your Pet
Electric mountain biking: discover mountain biking differently!
Electric Bike Tourism In Australia
Choosing Electric Bike For Australian Women
EBikepacking 2021 Best Outdoor Activity
Advantage Using Ebike Ride To Work
How Can Electric Bike Boost Hotel Tourism
Senior can now be physically fit for being mobile- Thanks to EBike
How great is the training effect of Ebikes?
EBike is Beneficial to These Type of Riders
How Ebike can help Australian and Foreign Students to earn while you learn
Why should Australian Restaurants start delivering their own food with Ebike?
Earn $5k Monthly Delivering Foods With Ebikes
List Of 38 Things Of What Australian Should Look For An Entry Level Ebikes For Beginners
Electric Bike - The Smartest Way To Commute Around Australian Cities
How To Choose The Best Ebike For My Business Product Delivery Team.
25 Things You Need To Know Before You Buy An Electric Scooter
Beach Rider 20 F007 brings you that special feeling where less E means more riding. Whether you want to cover longer distances, reach epic locations, simply be more efficient on the road, or experience great adventures even more often, the RISE exceeds your expectations and sets a new standard in biking. Folding e-bikes are particularly popular among commuters, because their compact design makes them particularly useful. The constant new technologies and developments are causing more and more people to switch to a folding e-bike . With the latest battery packs, it is now possible to cover longer distances on a folding e-bike without any problems .
Regular price$2,300.00 $1,600.00 Sale
Super Z 26 M005 immediately stands out visually from the test field. This is due to the technical features of the High-impact Alloy Aluminum Foldable Frame , which are clearly emphasized with black and gray color accents. The robust underrun protection that surrounds the Ausstech Performance rear  motor catches the eye just as quickly. The highlight: The motor was installed offset to the rear to better fit the frame.
The frame of the Monster 26 M007 is as well thought out as it is high quality and skillfully integrates the system around the Ausstech rear motor. Downhill it is unbeaten in this group test On both flowing and really technical downhill routes, the Monster 26 M007 overtakes the competition like on rails and offers a lot of comfort even on tours. No other bike rewards an active riding style with such direct handling! And otherwise? Super wide range of applications, excellent handling, high-quality High-impact Alloy Aluminium Foldable Frame deserved test victory!  
  Thunder 26 Electric bike and its compact geometry, it is very maneuverable, easy to control and fun on flowing downhill stretches. Although the rear triangle literally sticks to the ground, it provides enough feedback from the ground and offers enough support for jumping off and pushing. On rougher trails, the imbalance in terms of grip between the rear and front wheel becomes apparent. It's a shame, because the bike is very balanced in terms of load distribution and is very easy to control in open corners on a non-slip surface 
  The Fremont - M042 the electric mountain Bike is designed to be a true all-rounder electric mountain bike: it's designed for mountain biking trails, but it's also great for commuters, with additional features such as rack and guard mounts against mud. It might be the perfect choice for you if you want to ride the trails on weekends but also need a bike to get to work on weekdays. However, it is not designed for downhill or heavy trails. The Fremont - M042 is made from High-impact Alloy Aluminum Frame , which makes it a fairly light bike. There are seven sizes to choose from, so you should be able to find one that works for you.
Regular price$2,500.00 $1,600.00 Sale
Thunder 29 E-Bike M003 chassis works very sensitively and sufficiently defined with the steel spring damper. It can handle rough chunks and heavy landings without a murmur and screams for more, even more speed. It prefers to generate this with the help of gravity in the fall line and takes away the horror of even super steep gullies and blocked stone fields. The Thunder 29 E-Bike M003 gives you so much security at high speed that you feel invincible!